Bardo Training New Ladder Intensive 2007
The announcements had been made...the Diablo ladder will be reset June 25, 2007. E.J. Gold just said "...so, we might as well play the game", taking this opportunity for an online Bardo Training Intensive.
E-mails and phone calls were made to invite those in the Bardo Training for this adventure. It still felt somewhat quiet, no one quite anticipated just how intense it would get.
At 6pm PT June 25, it was time: The ladder had been reset and the game began all new.
Over 30 people participated in the 2 week long event, with 3-5 safaris per day for some of us. Many truly amazing and remarkable journeys took place. In one of the most memorable safaris E.J. -as Gorbytraps - just having gotten there himself, took a group of level 47-55 characters into hell and through it.
Here is where the PoG training really showed. Instead of getting "pwned" as they say, slaughtered that is, they moved though the spaces as one. Below a screenshot from that safari.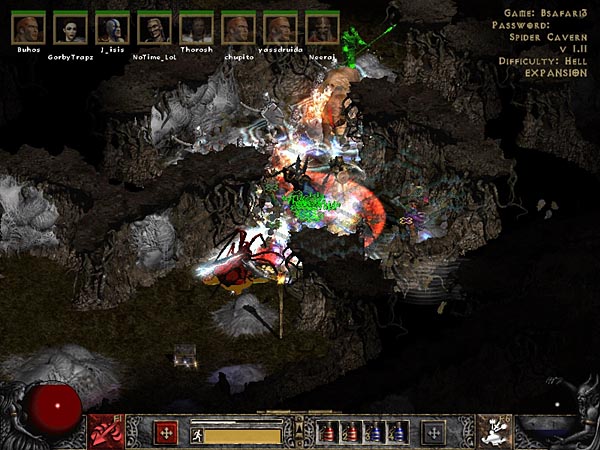 Only as a tight PoG was there any chance to make it.
Here's what some participants had to say after the Intensive.
This has been really amazing, it feels as if I was actually there with you all, doing a workshop, really present.
FS, Chigago, USA
Very exciting that the Ladder was reset, wished I didn't have to work and could have played Diablo a lot more....To be able to reach that point when the playing was just amazing was really the pinnacle of Diablo for me.It really has to be experienced to be believed.
There is so much I learned during this last Intensive. The gaming had a strong effect on my ability to be present for days after and which still continues. I am working better, way less hang ups and areas of distraction. Previously I believed my presence would be sort of like a roller coaster up and down, now it seems to be a little more consisitent for longer periods...maybe up to .01% but more consistent.
I just also feel incredibly lucky and grateful that I was able to take part in this.
JB, Vancouver, CA
The last work that we have done together has been strong and I am very happy with this. I only hope that here we know to seize it. I am very grateful to you for this opportunity.
Y.H. Tenerife, Spain