The 2005 Bardo Safari Challenge and Bake Sale Top 7
1st place: Don A.
Maryland
elemental druid
level 72
act 3 hell
q: duriel
wp: kurast docks

---
2nd place: Eric F.
Spain
sorc
level 67
act 1 hell
q: cain
wp: inner cloister
---
3rd place: David DGF.
California
hammerdin
level 63
act 1 hell
q: cain
wp: dark wood
---
4th place: Kevin M.
Florida
druid
lvl 60
act 1 hell
q: baal in nightmare
wp: rogue encampment, hell
---
5th place: Tanra K.
New Mexico
assassin
lvl 59
act 5 nightmare
q: rescue
wp: arreat plateau
---
6th place: Mishkin K.
New Mexico
druid
lvl 52
act 5 nightmare
q: shenk the overseer
wp: frigid highland
---
7th place: Mena
Spain
assassin
lvl 51
act 4 nightmare
q: mephisto
wp: pandemonium
Bardo Safari Challenge and Bake Sale 2005
Bardo Safari Challenge and Bake Sale
Text in espanol, italiano, deutsch, portugues, norwegian, indonesian
Congratulations to each and everyone who participated!!! It was an overwhelmingly positive response. More than 50 players participated in the weeklong event. Those are the ones we know about since they sent in the information about their character.
Folks had fun, enjoyed the challenge, learned things they did not know and across the board expressed gratitude for this exercise. Challenged at various points and levels, from getting out of rogue encampment in act 1 to facing their limits in hell...not to speak of finding the time to participate at all, many discovered that yes, they could do it, or, wow, how hard it can be, alone and without a group.
Below some of the comments we received along with the character stats. Thanks, guys and gals, for those too.
The Quest was for killing the monsters of the Den - almost completed.
At least a start. It is very fun and interesting!
Kind regards,
Per H., Norway
Thanks for the assignment, it was fun! See you tomorrow morning in the safari.
Justin T., Texas
Wow...I couldn't make it past Duriel, had a level 21 barb which started as a jav barb and...anyway...that was a learning experience. The intensity of the deadline and the need to go for it at all costs was a real eye opener.
Grant A., New Jersey
it was fun
thx
Kevin M., Florida
This has been a great exercise. I had to study my characters attributes as I planned out my life to see how to play him in this setting. It was like taking rebirth to start the game.
Very cool training.
Nev., California
Thank you for the Challenge!
Sincerely,
Marc S., Calfornia
Hey, That was fun!
Brendan S., Canada
Playing untwinked is lovely, strong sensations of the first times i played, having to get every important waypoint, no assistance at all, good.
Eric F., Spain
Thanks for the thoughts and the challenge
dgf., California
If I had more time I would have gotten further. I need more hours in the day, and more days in the week. :)
TiTo, New Mexico
Are you giving booby prizes?
Love
Pat McD., California
I have had more fun with this character than any I have played so far, thanx for the challenge.
Tanra, New Mexico
Dressed as a Barbarian in a pool of an ungodly amount of blood in the "normal" (hah!) realm. 1st time I ever tried Barb.
I welcome prizes for the lowest level if that is also an award category.
Fondly, Respectfully, Remorsefully,
Kathleen D., New Mexico
I enjoyed the challenge.
Thanks,
Don A., Maryland
This was a very useful exercise. Thank you for setting it up.
Tamara M., New Jersey
I had a lot of fun building this character, and i enjoyed the added difficulty of no-items-or-backup while the race was on.
I hope to see you in gametime soon.
Mishkin, Arizona
I learned a lot and would like to have spent more time on the exercise. It was fun! Thanks for the opportunity.
AV H., California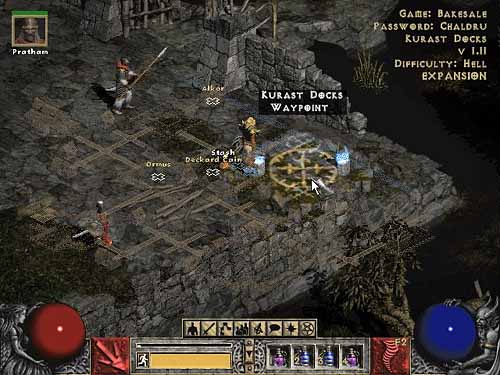 Here Don's druid Chaldru in Kurast Docks in hell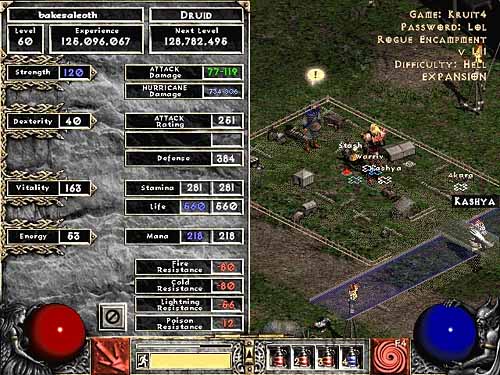 Kruit's (Kevin) druid just arrived in hell.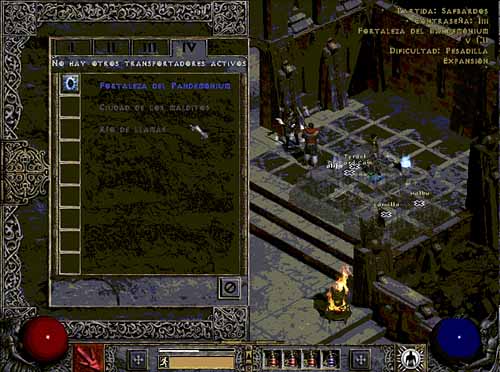 Mena's assassin in act 4 pesadilla